After our Scary Movie theme last week, the Friday Frivolity Hosts are keeping in the Halloween Spirit with "crazy costumes" this week. So many fun ways to interpret that one, but whenever I'm in doubt, I fall back on animals. For your weekend enjoyment here are some crazy pet costumes.
[Tweet "Crazy Pet Costume Memes: funny photos of animals in costumes. #animals #petcostumes #humor"]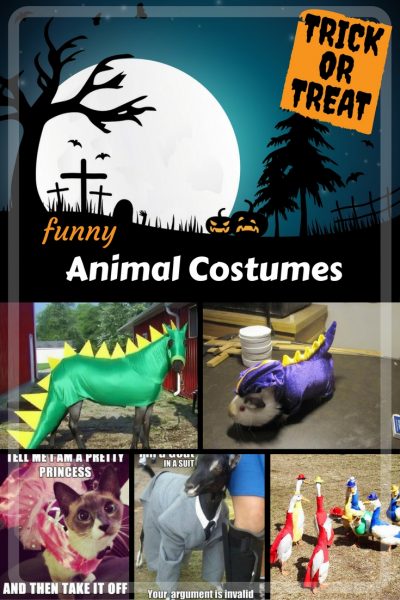 Now on to the link-up! 😀

Featured Post from Last Week:
In a fun twist, since we now have four hosts and co-hosts we will also have FOUR FEATURES.... but you will have to go check out the other four blogs to see if you were featured there! 😉
My pick this week is the legal documentation from the Tooth Fairy from Unremarkable Files in the Tooth Fairy Manifesto. Be sure there are no little ones around when you read gems like:
"I will not leave glitter footprints, sugar-free lollipops, signed "I Lost a Tooth!" certificates, rhyming treasure hunt clues, stuffed animals, little toys from Oriental Trading Company, or photoshopped pictures of me hovering over your sleeping body."
The Hosts:
Sarah Eliza is on a mission to Devastate Boredom by living life with laughter and intention! Her blog is your spot for Capsule Wardrobe how-to's and inspiration, humor, encouragement, life-hacks, Read / DON'T Read book reviews, and more! She has some lovely Inspirational Printables for you and a review of her monthly goals.

Jessica is an amazingly funny and smart blogger from Wales who writes at Babi a Fi on a whole range of topics -- from entertaining vintage nostalgia, to technology tutorials, to book reviews, to raising her adorable munchkin, and so much more! She has a post up this week about all doing our part for the environment with the #brightFuture Challenge.
Now time for the new stuff!
This a link-up for all things funny, fun, encouraging, hopeful, and happy. That includes free printables, giveaways, and other fun stuff to make us SMILE and start the weekend off on the right foot. If you're here in search of fun and uplifting reading materials, skip the rules and just start clickin'! Bloggy buddies, thanks for coming to par-tay! You are welcome to link up to 3 posts, and old posts are always welcome! There are three rules only: