While Northern California may have received plenty of rain this winter, the El Nino seems to have missed Southern California again this year. While we did get more precipitation than we have in the past few years we are still in a drought and we will be for the foreseeable future. Homeowners and businesses would be well advised to reconsider their landscaping to preserve natural resources and reduce their costs and yard maintenance.
So many people mistakenly believe that in order to have a drought tolerant garden you have to cover your yard with rocks and cacti. WRONG! Leave the cacti in the desert and embrace the California plants that are native to your area. And for nature's sake, take a look at this before you consider fake grass!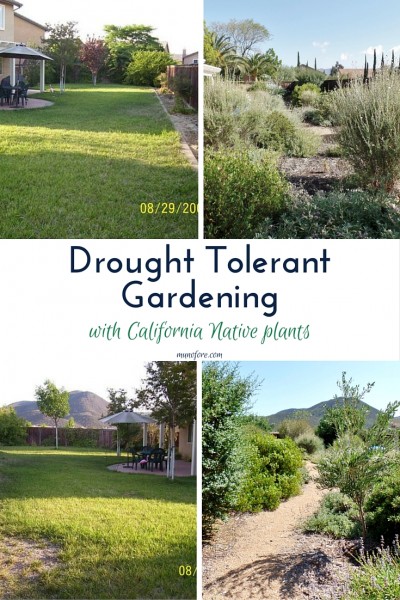 Nine years ago, my husband and I tired of our building standard lawn and generic plants. It was boring to look at it, took plenty of water to maintain and needed weekly maintenance. So, we called Greg Rubin from California's Own Landscaping. Out came the patchy water sucking mono-culture lawn, and in came the beautiful plants that make up the coastal sage scrub plant environment where I live.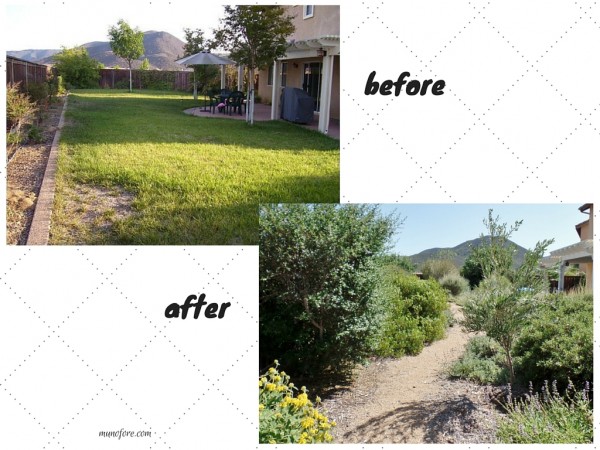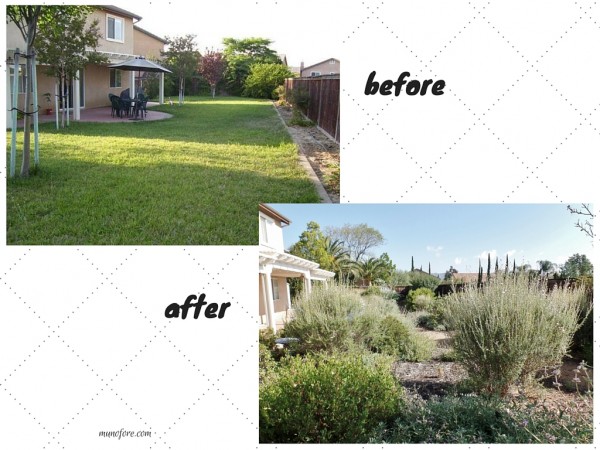 [Tweet "A drought tolerant yard doesn't have to mean rocks and cacti. #californiandrought #landscaping #nativeplants"]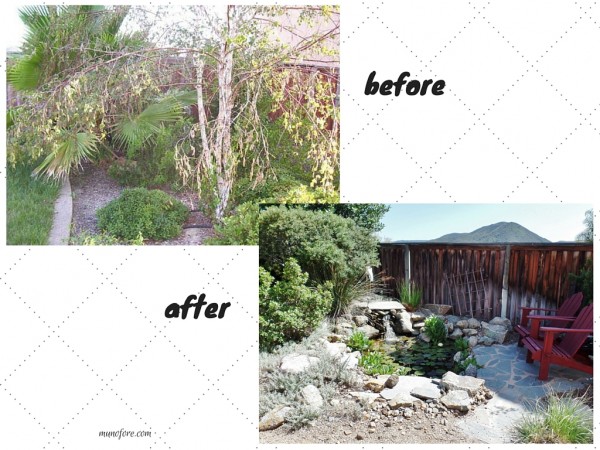 Now it's like living in my own private nature preserve. There are some bare spots that need a little life, like to the right of the waterfall and pond in that last picture. But, for the most part I have beautiful looking and smelling plants year round.
Benefits to replacing turf grass with native plants:
water savings - I water once ever 5-10 days depending on the season. I even go longer than that in the summertime because these plants are naturally adapted to long dry summers. That's when they go dormant.
time savings - no weekly mowing! (except the small patch of grass still in the front yard). About once a quarter something needs to be pruned: the lilacs in summer, the Apache plume in winter, etc. But, that's about it.
no soil amendments, fertilizer or pesticides needed - these plants are naturally acclimatized to the weather and the soil. They thrive in this environment whereas many traditional landscaping plants would need water, soil treatments, etc in order to thrive.
money savings - less water, less maintenance and no additional chemicals all mean I spend less money.
native critters love it! - do you like birds and bees and butterflies and lizards and ladybugs? They love the native plants because it is their natural habitat. They might come for the native plants, but they also patrol my edible garden too keeping the pests to a minimum. Except the dreaded hornworm.
Easter egg hunts - Just as they were putting the finishing touches on the yard, we found out our son was on the way. We were a little nervous not to have a yard full of grass for our son to play on when we found out he was on the way. But I have the best Easter egg hunts! And my son and his friends love exploring nature and hanging out by the pond throughout the rest of the year too.
[Tweet "Replacing turf grass with native plants will save water, time and money. #californiadrought #gardening"]
Drawbacks to a non-traditional landscape:
no bounce houses or blow up pools. We've tried, but our yard is on a slant in both front and back so these just don't work for us.
plant selection and maintenance information is not as abundant as "traditional" big box store plants. But, there are more and more resources becoming available the longer this drought lasts.
Resources for California native plant selection and maintenance:
DISCLOSURE: As I stated above the yard was designed and installed by Greg Rubin. No one is sponsoring the post, these are just my real opinions.
Online
If you want to see pictures of California native plants and some of the critters that enjoy them, look no further than this blog. I have plenty of photos for you.
Las Pilitas Nursery - many of my plants were purchased at their Escondido location. When we redid part of the front yard, we consulted with their website and with them in person for plant selection. The site has  oodles and oodles of information and pictures about so many native plants.
Books (Amazon affiliate links, I receive compensation if you purchase through these links)
Greg Rubin's first book The California Native Landscape. This book will give you some great design ideas if you want to do something a little more formal and less au natural than my yard.
Greg's newest book will be here in a few days and I can't wait. The Drought Defying California Garden focuses more on the plants themselves.
Nurseries
Unfortunately Las Pilitas is closing their Escondido location, so my favorite place is gone. But, it wouldn't really change my recommendation anyway, which is to find a place near you. You will have the best luck finding knowledgeable help and plants for your particular climate at native plant nurseries close to you. If you have a good nursery to recommend, feel free to add them in the comments.
Hopefully I busted a few misconceptions about the California native garden, and perhaps even encouraged you to get rid of some of those water guzzling non-native plants.
----
This post was shared on The Homesteader Hop
Save