Since we are in the midst of "Red Carpet Season" at the moment, the Friday Frivolity crew chose Fashion Flubs as our theme for this week. Be sure to see what goodies the others have shared this week.
Since I am a self professed  fashion disaster (jeans/yoga pants, t-shirt and pony bun on most days) I couldn't bring myself to question the fashion taste of others. Well at least not anyone who might still be alive to read this and get their feelings hurt.
Instead I give you some vintage fashions I am glad are dead and buried.
King Henry VIII with shoulder pads that put Alexis Carrington Colby to shame (it's an 80's reference - google it youngsters!), a stylish codpiece that can't be unseen, plus enough bling to be a rap star.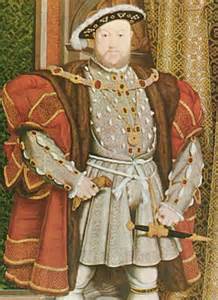 Not to be out done be her fashion forward father I give you Queen Elizabeth I: high forehead, pasty white skin (covered in copious amounts of white make up in later years to hide the small pox scars), and a neck buried in yards and yards of lace. At least I hope she has a neck under there. Wait a minute, if the ruff comes back maybe it will keep me from being able to put food in my mouth. Hmmm... Nope still glad it is gone! And what's up with the rat crawling up her arm? Creepy!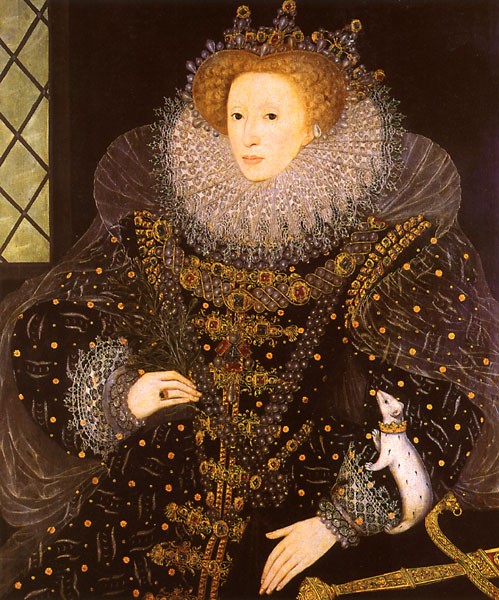 Imagine Pennsylvania in early July (translation hot and humid), no air conditioning, and a room full of men in wool suits and powdered hair/wigs. I've been in the replica Independence Hall in Buena Park, California. It wasn't a big room. I can't even imagine the smell. Ugh! So glad my husband does not feel the need to cover his head in white powder. Ah-choo!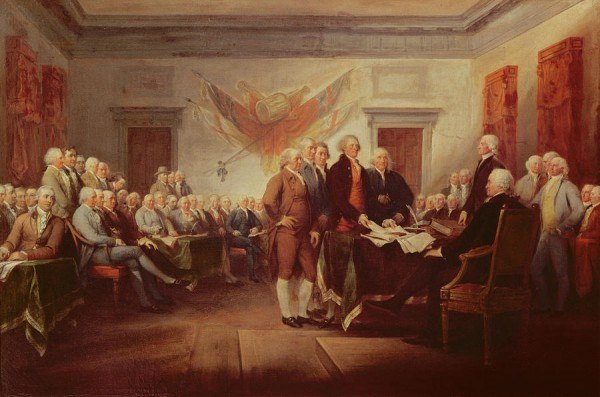 Meanwhile in France we have the lovely Rococo styles. She needs a ruff collar to help her hold her head up with that do! And then there's the hoop skirts. Hey ladies, let's make our entire lower half 3-4 times bigger than it is. How were you supposed to move in those things!? Oh wait they weren't. I'll get back to that in a bit.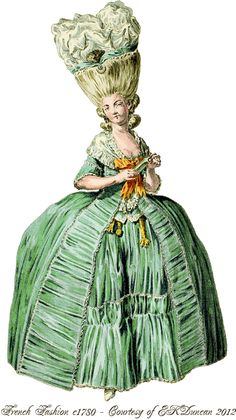 Eventually we ditched the ridiculousness of hoop skirts and devised contraptions to just make our derrieres look big. Sir Mix-a-Lot may like it, but no, just no.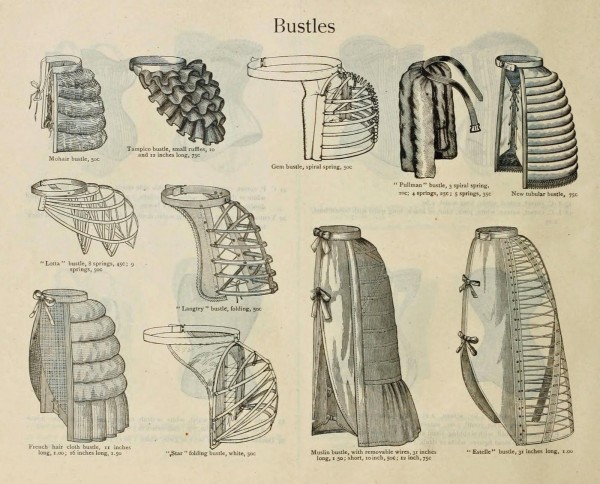 And to contrast with our big rear ends we could have teeny tiny waists thanks to the torture devise known as the corset. Lined with whale bones to improve posture and laced so tight your internal organs moved and ribs possibly cracked. Is this the first Sports Illustrated Swimsuit Edition or does she just look like she could topple over at any second?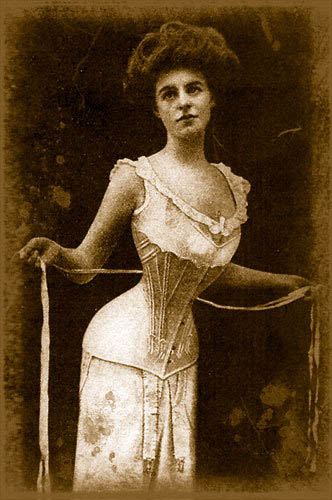 And finally, the Bloomer. I feel a tad guilty adding this one. Fashion-wise I am glad it is gone. Feminist-wise I am really glad it is gone. But I am so grateful to those that wore it and all it came to symbolize! From Wikipedia:
Also called the "Turkish dress", "American dress", or simply "reform dress", bloomers were an innovation of readers of the Water-Cure Journal, a popular health periodical that in October 1849 began urging women to develop a style of dress that was not so harmful to their health as the current fashion. It also represented an unrestricted movement, unprecedented by previous women's fashions, that allowed for greater freedom—both metaphorical and physical—within the public sphere.
Long feminist lecture short, the Bloomer became the fashion symbol of the Women's Suffrage Movement. It literally enabled women to move and breath and it came about at a time when they wanted legal rights too, particularly the right to vote.
I'd still rather wear my yoga pants and Freddy and the Bi-Ped 2016 t-shirt when I go off to vote in the upcoming election instead of this ensemble.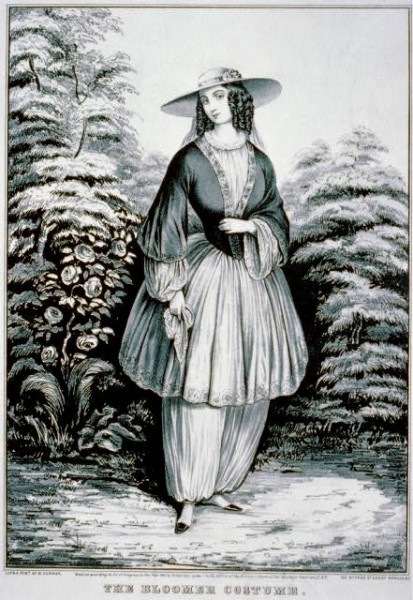 But it was infinitely better than the ridiculousness it replaced.
Now on to the link-up! 😀

The Hosts:
Sarah Eliza is on a mission to Devastate Boredom by living a life full of all of her favorite things... friendship and connection,
laughter,
books and music, furbaby love, minimalism, wellness pursuits, Paleo-ish cooking, and on and on! Did you see her adorable elephant collection last week on Friday Frivolity? So cute!
Facebook // Twitter //Pinterest // Google+ // Bloglovin
Lisa is an awesomely hilarious and authentic writer who marches to her own drum on her blog Syncopated Mama, providing an "un-labelly spot" for all the happily off-beat
folks out there who have been wishing to find kindred spirits. She shares her adventures building a natural home, teaching her adorbs daughter, establishing and refining positive communication skills, camping, creating, cooking, and so much more! Check out her If You Give a Moose a Muffin Cause and Effect Box, a fun activity tied in with the book by Laura Numeroff.



Jessica is an amazingly funny and smart blogger from Wales who writes on a whole range of topics -- from entertaining vintage nostalgia, to technology tutorials, to book reviews, to raising her adorable munchkin, and so much more! She has a great explanation of Domain Authority that every blogger should read.

Featured Post from Last Week:
In a fun twist, since we now have four hosts we will also have FOUR FEATURES.... but you will have to go check out the other two blogs to see if you were featured there! 😉
I chose The Best Personal Finance Books to Get Out of Debt from Jamie at Medium Sized Family. If you don't carry any debt, congratulations. For the rest of us, Jamie shares a list of some books to help you pay it all off.

Now time for the new stuff!
This a link-up for all things funny, fun, encouraging, hopeful, and happy. That includes free printables, giveaways, and other fun stuff to make us SMILE and start the weekend off on the right foot.

If you're here in search of fun and uplifting reading materials, skip the rules and just start clickin'!

Bloggy buddies, thanks for coming to par-tay! You are welcome to link up to three posts, and old posts are always welcome! There are three rules only: