This week the hosts of Friday Frivolity are compiling lists of their favorite movies or comedies. I decided to go with my "guilty pleasure" movies. Goofy, silly, no social redeeming value, but yet I find myself watching them over and over if they are on TV. Yes, I am old school and don't use NetFlix or any of that fancy hi-tech streaming stuff. I only figured out how to do that in the last month. True story.
McClintock - John Wayne and Maureen O'Hara
I am not sure if this movie could be more politically incorrect. Advocating spanking a woman to tame her? This movie would never be able to be made today. As a woman I should be appalled at this misogynistic movie. But, it makes me laugh. I know it is wrong.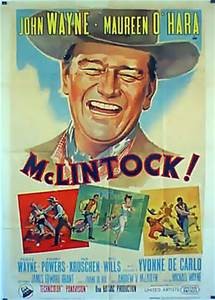 History of the World Part 1 - Mel Brooks and a whole bunch of other people.
I could have made an entire list of Mel Brooks movies, including Young Frankenstein, High Anxiety, Blazing Saddles, etc. But, this one is my favorite. Pure campy craziness. "It's good to be the king".
Flash Gordon - Sam Jones and Max von Sydow
Ok, I admit it, some of the appeal of the movie is the soundtrack. "Flash... aa-aaa... save each and every one of us!" I miss you Freddy! But, the campy fun reminiscent of the old Batman TV show keeps me coming back time and time again.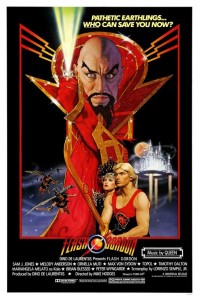 Stripes - Bill Murray and Harold Ramos
I don't want to admit how many times I have seen this one. Completely improbable and disrespectful to the men and women that serve in our Armed Forces. "You know son, I've noticed your always last."

Caddyshack - Chevy Chase, Rodney Dangerfield, Ted Knight
So much inane fun, especially the battle of wits between Carl the Groundskeeper and the gopher. Poor Carl never stood a chance... ha ha.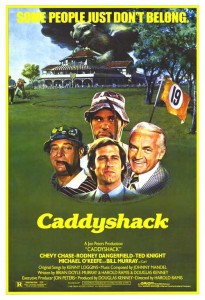 How about you? What are your guilty pleasures movies? Anything you care to admit to?
[Tweet "What are your favorite "guilty pleasures" movies? Here are 5 fun ones. #movies #guiltypleasures"]


Now on to the link-up! 😀 

The Hosts:
Audrey is a wonderfully eclectic blogger, who not only can cook up a storm over on That Recipe, but also writes at Munofore - "MUsings NOt FOod RElated." Munofore touches on humor, parenting, crafting, holiday ideas, tutorials, and more! She shows off her Drought Tolerant California Native Garden in her latest post.
Sarah Eliza is on a mission to Devastate Boredom by living a life full of all of her favorite things... friendship and connection, 
laughter,
 books and music, furbaby love, minimalism, wellness pursuits, Paleo-ish cooking, and on and on!  She has a book review on Corridor of the Night by Anne Perry (book #21 in the William Monk series) you might want to check out.
Facebook // Twitter //Pinterest // Google+  // Bloglovin
Lisa is an awesomely hilarious and authentic writer who marches to her own drum on her blog Syncopated Mama, providing an "un-labelly spot" for all the happily off-beat
 folks out there who have been wishing to find kindred spirits.  She shares her adventures building a natural home, teaching her adorbs daughter, establishing and refining positive communication skills, camping, creating, cooking, and so much more!  Have you ever made your own crackers? Lisa has a recipe for Homemade Wheat Thins I want to try.


Jessica is an amazingly funny and smart blogger from Wales who writes at Babi a Fi on a whole range of topics -- from entertaining vintage nostalgia, to technology tutorials, to book reviews, to raising her adorable munchkin, and so much more!  She presents a very in depth look at the British education system for fiction writers. I am not a fiction writer but I thought is was fascinating!





Calling all bloggers looking for an upbeat and supportive group of pals to join in hosting the weekly #FridayFrivolity par-tay!  We are hoping to add to our ranks of dedicated hosts and co-hosts, and would love for you to consider joining the fun!  Co-Hosts are welcome on a temporary basis (usually a month), while Hosts make a more ongoing commitment.  🙂  Swing by here to express interest and ask any questions!
Featured Post from Last Week:
In a fun twist, since we now have four hosts we will also have FOUR FEATURES.... but you will have to go check out the other three blogs to see if you were featured there!  😉
My featured post this week is: Five Ways to Banish Bedtime Monsters from Homeschool Preschool. We never faced this problem when J was little, but I thought these ideas would be a great way to handle a rather common child development issue.

Now time for the new stuff! 
This a link-up for all things funny, fun, encouraging, hopeful, and happy.  That includes free printables, giveaways, and other fun stuff to make us SMILE and start the weekend off on the right foot. 

If you're here in search of fun and uplifting reading materials, skip the rules and just start clickin'! 

Bloggy buddies, thanks for coming to par-tay! 
You are welcome to link up to 3 posts, and old posts are always welcome!  


There are three rules only: