Easter can be a wonderful Spring celebration, filled with family traditions. But, some of those traditions can be...uh... not so healthy.
Here are a few tips for having a healthy yet enjoyable Easter holiday with your family.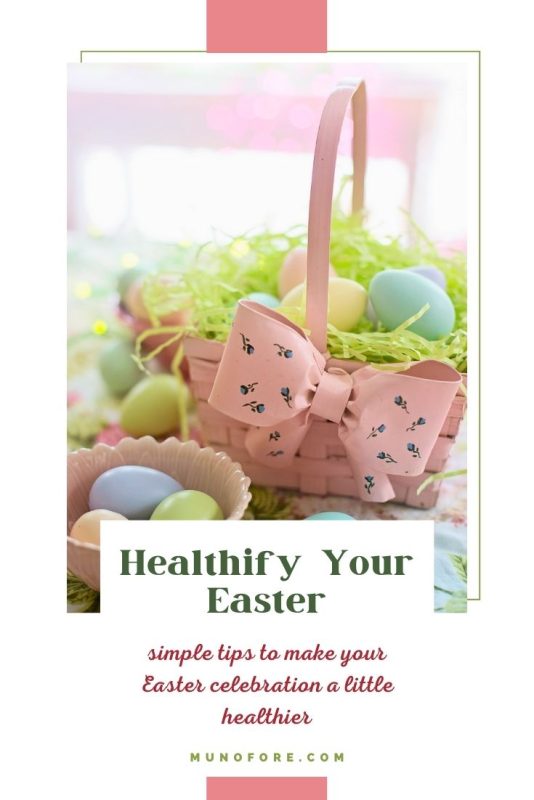 Healthy Easter Tip 1: Heathier Easter Baskets
Talking about the Easter baskets is a good place to start when discussing having a healthier Easter.
If you want your kids to enjoy their baskets but without oodles of sugar-laden sweets, there are some super fun and easy options!
Get Organic Fruit Snacks – Instead of giving them little bags of jelly beans, why not get fruit snacks as well? Many of these also have a lot of sugar, so try to find the natural or organic varieties that contain less sugar and preservatives.
Try Chocolate-Covered Fruit – If you want to give your kids chocolate, but in a healthier way, you can try making chocolate covered fruit. They are getting all the nutrition from the fruit you use and preventing them from having pure, solid chocolate at the same time. That little bit of chocolate covering banana slices or half of the strawberries really isn't much as compared to that size of solid chocolate.
Choose Dark Chocolate – Another way to give your kids chocolate in their Easter basket but in a healthier way is choosing small pieces of dark chocolate. The sugar content is less, plus dark chocolate is loaded with antioxidants. It is so much better for both kids and adults, but it is still yummy!
Add More Non-Treat Items - Don't underestimate the power of non-treat gifts! You probably fill up the basket with mostly candy and maybe a small toy or two. Why not switch it around? Have just one small type of candy, then load up the basket with other fun items: books, stickers, art supplies, card games, bubbles, jump rope, ball or other athletic gear, etc.
Here are some ideas of items we have put in my son's basket in the past (affiliate links):
Healthier Plastic Egg Contents – Instead of filling eggs with candy for the basket or Easter Egg Hunt opt for non-edible goodies like little stickers or small toys.
The best Easter Egg Hunt we had at my house was when I filled the eggs with Legos. After the hunt, the kids varying in age from 5-10 sat quietly for almost an hour building and trading pieces with each other.
Healthy Easter Tip 2: Meal Options
Besides the baskets, the Easter Meal is also a minefield of unhealthy options. Be it brunch or dinner, you can make some simple swaps and still create an enjoyable family meal.
Make Everything From Scratch
It may be more work, but this step will help you make healthier meals simply by having more control over the ingredients.
Processed foods usually contain a lot of sodium, sugar and other preservatives.
Besides, it is spring time and there are so many fabulous fresh ingredients readily available.
Plus, it can be a fun family activity for you and the kids (or grand kids).
Here are some healthier options to try out:
Swap coconut oil or olive oil instead of butter
Cut the amount of cheese needed by half
Don't use anything that is boxed or frozen
Use only low-sodium and low-sugar ingredients
Be Careful With Your Breads and Sides
Another aspect of Easter dinner that tends to pack on the fat and calories is the side dishes and bread.
If you are a low-carb diet, keep in mind you can have a big family dinner without eating bread or starchy vegetables. Instead, have your fill of ham or lamb, deviled eggs, and vegetables. Skip the potatoes and opt for a side salad or double veggies instead.
When you are preparing sides, follow the previous instructions by cutting back on butter, cheese, and other fattening ingredients. You can easily transform some of your favorite dishes to a healthier option by making garlic green beans instead of the dreaded canned green bean casserole and using sweet potatoes instead of white potatoes.
Focus on Better Portion Control
Finally, focus on portion control. With family meals like Easter, you can eat a little of everything (within reason), but just watch how much you get. Learn to visualize what a proper portion is. For example, a 3-4 ounce piece of ham should fit into the palm of your hand. Try to have such a palm-sized portion of each dish, one deviled egg instead of two, and cut back on the butter on your roll and you will be doing much better.
Another trick with portion control is to look at your plate as you add food to it. Leave a little bit of space between each food item and stop when you can't fit any more without food touching. This keeps you from piling it up and having too much to eat.
Healthier Recipe Ideas
There are so many delicious in season fruits and vegetables in the Spring.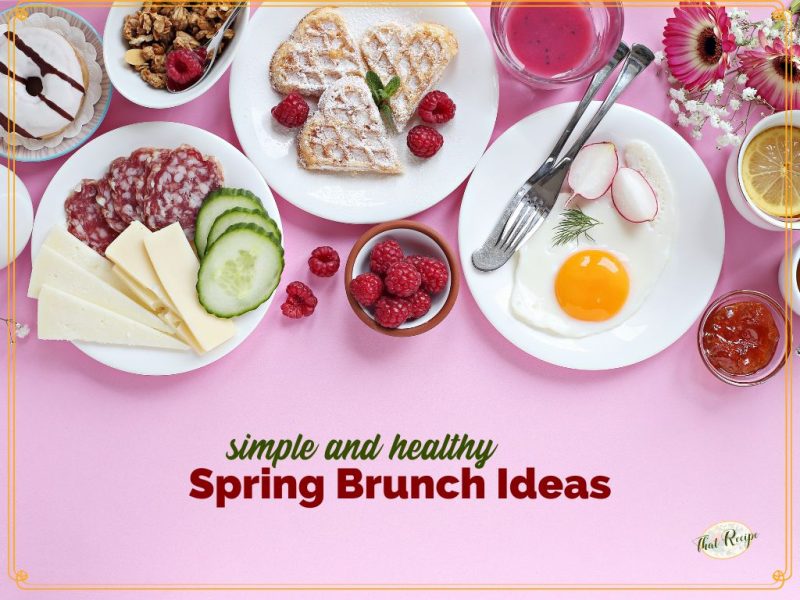 This post is titled Spring Brunch Ideas, but there are some delicious side and main dishes here that would be great at any meal.
Healthy Easter Tip 3: Get Moving
Increasing the amount you exercise leading up to the holiday is going to help offset some of the extra calories you will be consuming. Walking during your lunch break or enjoying weekend hikes with the kids can help quite a bit.
Start a new tradition and build some exercise into your Easter celebration:
Go on a family hike or bike ride before the meal to work up an appetite.
Go for a walk after dinner and before dessert to keep from dozing on the couch.
Head to the park for kite flying, frisbee throwing or a game of catch.
If the snow is still on the ground where you are consider some skiing, sledding or other winter activity.
Get the kids fitness accessories in their Easter basket and spend some time using them.
Enjoy some living room dance time after the Easter egg hunt.
Easter is a time of renewal and hope. Making healthier choices for celebrating Easter can be the start (or continuation) of a healthier lifestyle for you and your family. After all swim suit season is just around the corner.