Important Life Lessons from Dr. Seuss everyone should learn.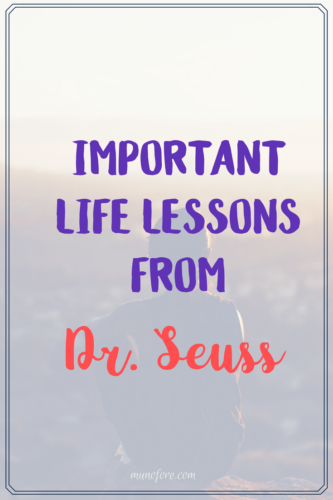 In honor of Theodore Geisel's birthday and Read Across America Day your intrepid Friday Frivolity hosts have chosen a Dr. Seuss/ children's book theme. Be sure to check the other hosts to see what they have for you. Since I recently posted Awesome Books for Third Graders Recommended by Third Graders, I decided to take a different tack. Instead I chose 8 Dr. Seuss quotes with important life lessons I'd like my son to learn.
We just finished a big report on Steve Jobs so "Think Different" is on my brain. Creative thinking can solve most of the world's problems.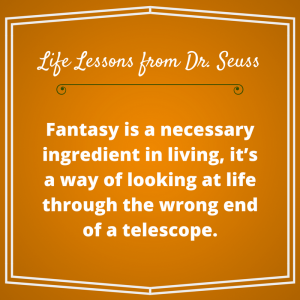 Learning to think of other people and the world is something we are working on.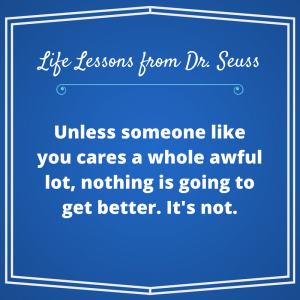 This sounds better than my usual response "Suck it up, Sunshine." (No, I don't actually say it out loud). There are many unpleasant tasks in life and it is better to just get them over with.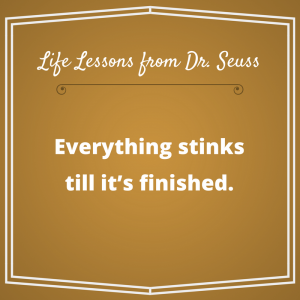 Look on the bright side of life.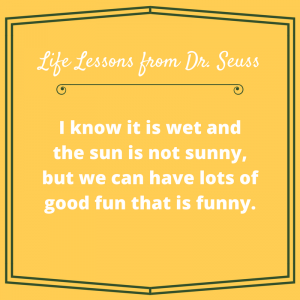 No "I dunno" immediately after reading the question.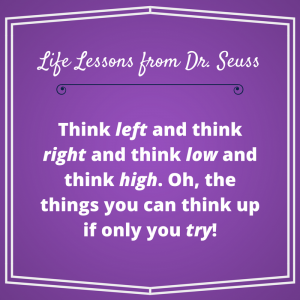 Reach for the stars.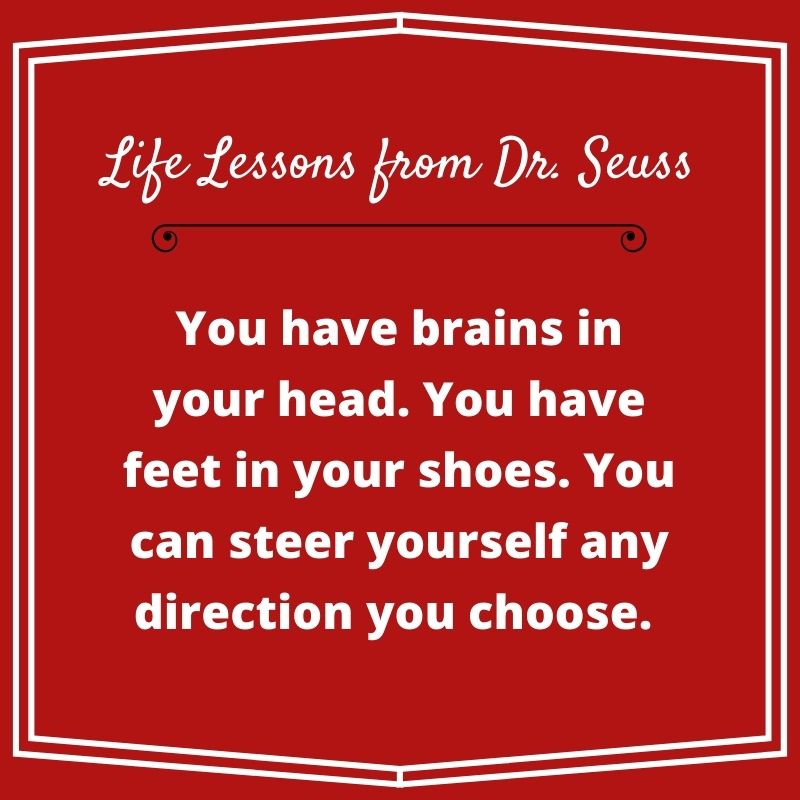 Your teachers (and parents) aren't going to tell you everything you need to know in life. There are plenty of things you will need to learn on your own.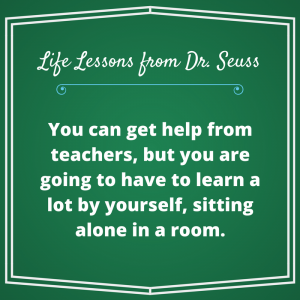 It is easier to learn alone in your room if you first learn how to learn.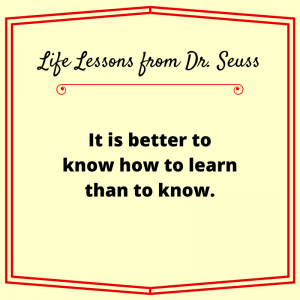 Now on to the link-up! 😀
In a fun twist, since we now have multiple hosts and co-hosts we will also have multiple FEATURES.... but you will have to go check out the other blogs to see if you were featured there! 😉
Audrey is a wonderfully eclectic blogger, who not only can cook up a storm over on That Recipe, but also writes at Munofore - "MUsings NOt FOod RElated." Munofore touches on humor, parenting, crafting, holiday ideas, tutorials, and more! She has some fun memes about the font everyone loves to hate: Comic Sans. Plus some tips for choosing appropriate fonts.


Facebook // Twitter // Pinterest // Instagram
Sarah Eliza is on a mission to Devastate Boredom by living life with laughter and intention! Her blog is your spot for Capsule Wardrobe how-to's and inspiration, humor, encouragement, life-hacks, Read / DON'T Read book reviews, and more! In her latest post she shares the 3 stages of Mardi Gras according to cats.
Facebook // Twitter //Pinterest // Google+ // Bloglovin
Lisa is an awesomely hilarious and authentic writer who marches to her own drum on her blog Syncopated Mama, providing an "un-labelly spot" for all the happily off-beat
folks out there who have been wishing to find kindred spirits. She shares her adventures building a natural home, teaching her adorbs daughter, establishing and refining positive communication skills, camping, creating, cooking, and so much more! Lisa takes us to Spain in her latest Passport to Fun post.
Guest Co-Hosts for February:
Amethyst from One Sage Mama!
Patricia from Pretty Fly for a White Mom
Patricia is a marvelously honest and funny writer, who shares her warm and humorous reflections on life and motherhood over at Pretty Fly for A White Mom. And ooooh yesss, she rewrites and performs music too! Read her lovely post about her not so easy chair.
Calling all bloggers looking for an upbeat and supportive group of pals to join in hosting the weekly #FridayFrivolity par-tay! We are hoping to add to our ranks of dedicated hosts and co-hosts, and would love for you to consider joining the fun! Co-Hosts are welcome on a temporary basis (usually a month), while Hosts make a more ongoing commitment. 🙂 Swing by here to express interest and ask any questions!
Now time for the new stuff!
This a link-up for all things funny, fun, encouraging, hopeful, and happy. That includes free printables, giveaways, and other fun stuff to make us SMILE and start the weekend off on the right foot.
If you're here in search of fun and uplifting reading materials, skip the rules and just start clickin'!
Bloggy buddies, thanks for coming to par-tay!
You are welcome to link

up to 3 posts

, and old posts are always welcome!
There are three rules only:
[Tweet "Link up your fun, funny, happy and hopeful posts on #FridayFrivolity #bloggerswanted"]