When coping with perimenopause symptoms one of the first things many women turn to is herbs, supplements and/or essential oils. They can help alleviate many of the most bothersome symptoms such as hot flashes, night sweats and mood swings.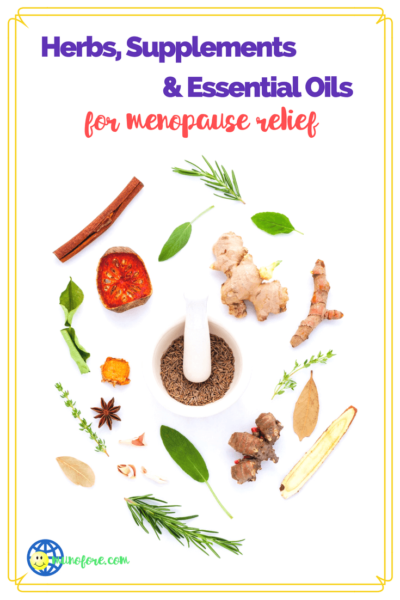 This is the second of our Menopause Monthly Series. Our first post discussed dietary changes you can make to ease the menopausal symptoms and increase overall health at this stage of life. We will have more discussions coming every month.
In general herbs, supplements and essential oils can be a safe natural way to cope with menopausal symptoms, but if you have any other medical conditions, or are on any medications you want to check with your doctor first. All are readily available at your neighborhood drugstore or online.
Natural Herbs For Menopause
Herbs can provide many health benefits, from lowering your cholesterol to easing mental health disorders. They also work great as a natural remedy for menopause. Aside from sage, you probably won't be adding these to your meals but instead look for them in the tea aisle.
Sage
Sage is an amazing and beneficial herb. The menopausal side effects it primarily helps with are hot flashes and night sweats, both of which are not only uncomfortable, but can cause stress because they interrupt your sleep. There are some different ways to get more sage into your diet, from adding the herb to your cooked foods, to making a peppermint tea with a little sage added to it.
Wild Yam
Wild yam is not the delicious tuber you serve at Thanksgiving diner, but actually a wild plant that contains nutrients to help with your menopausal symptoms, including the phytoestrogen diosgenin. This herb can help to balance out your hormones, which is how you can reduce your menopausal symptoms. Though like all herbs, you should discuss it with your doctor before using it.
Valerian
The last herb you should try out if you are going through menopause is called valerian or valerian root. This is another herb that has been around a long time in different parts of the world, but is becoming more popular as a way to treat medical conditions. Recently, it has been used for menopause by helping you with anxiety, insomnia, and some of your hot flashes. The great thing about valerian is that you can get the root in herb form for cooking or adding to a healing tea, or you can get it in supplement form.
Try these 3 herbs to help you cope with perimenopause.
Supplements to Help With Menopause Relief
Supplements can help provide menopause relief and provide proper nutritional support for your body's changing needs.
Omega-3 Supplement
Omega-3 fatty acids are an important nutrient no matter what stage of life you are in, but they are particularly beneficial in the peri-menopause / menopause stage. They improve heart health, reduce inflammation and assist with memory function. Of particular interest to those of is in the menopausal stage is it assistance with fighting depression and anxiety. They are found naturally in a variety of foods such as fish and flaxseeds, but you probably aren't getting enough that way so consider a supplement. That is because these fats can help smooth out your skin and reduce inflammation, which also have a positive effect on many of your menopause symptoms.
Black Cohosh
Black cohosh is technically an herb, but I put it in the supplement section because that is the easiest and most common way to find it. This is probably the first thing women recommend to each other for facing hot flashes and night sweats.  It is also one of the most studied supplements for menopause relief, though the jury is still out on its efficacy in traditional medical circles.
Vitamins B and E
Some vitamin supplements are also recommended when you have menopause, whether you just started or have been dealing with it for a while. The first is most of the B vitamins, which are all water soluble and can help decrease stress related to your menopause. You should also have plenty of vitamin E, which can help a lot with your hot flashes. Try to get about 400IUs of vitamin E each day, which comes in a supplement pill form.
4 supplements you should start taking before menopause hits. #womenshealth #menopause
Ease Your Menopause Symptoms With These Essential Oils
Essential oils are oils that are extracted from flowers and leaves of various plants. These essential oils provide a lot of amazing health benefits, including helping you to ease your menopause symptoms.
WARNING: some essential oil enthusiasts claim it is safe to take essential oils internally. Others state essential oils are absolutely not for ingestion. I am in the "better safe than sorry" camp. Use them in a diffuser or apply topically with a carrier oil, but don't add them to your food and drinks.
Some essential oils to get help with your menopause.
Peppermint Oil
Peppermint oil can help ease cramping, as well as hot flashes and night sweats.
Basil Oil
Basil essential oil contains a natural compound that works similar to the estrogen hormone, so it can help balance out your hormone levels naturally.
Lavender Oil
Lavender essential oil promotes relaxation and calmness and is also known for boosting your mood naturally.
Geranium
Geranium essential oil can help to balance hormones and relieve anxiety, stress and depression.
4 essential oils to help those pre-menopause symptoms.
These natural remedies may be very beneficial for women in the peri-menopause and menopause stage. But, just as every woman experiences menopause differently, these remedies may not help or may make symptoms worse. Consult a professional and experiment carefully, with a few at a time, just to be safe.