One of the things you miss most when you start experiencing peri-menopause is a decent night sleep. You grab as many zzzs as you can between the hot flashes, but inevitably insomnia starts to kick in and you begin stressing about not-sleeping which only makes things worse. Fear not, I have a few tips for you about getting a good night sleep during menopause from someone that has been through it: ME!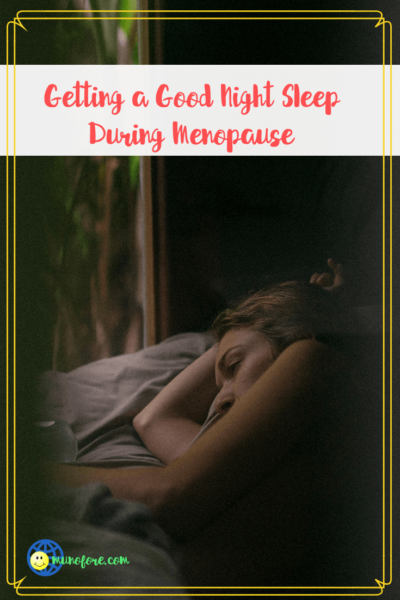 This is part of a series on dealing with menopause, peri-menopause, pre-menopause, etc. Previously, I have talked about dietary changes and herbs, supplements and essential oils that may help relieve the symptoms of the menopausal period. Those tips can also help you to sleep better during this time.
Before you book a room at Sweden's Ice Hotel or invest in separate beds a la Lucy and Ricky Ricardo, consider some of these suggestions that have helped me improve my sleep as I inch ever closer to crossing the menopausal threshold.
Some of the links below are affiliate links. I may receive a commission for purchases through the links at no extra cost to you to help buy my black cohosh. 😉
Make Sure You Hydrate
If you are struggling with hot flashes and night sweats during menopause, the culprit might be dehydration. Many women drink water throughout the day, but aren't drinking enough of it. Remember that you need extra water when exerting yourself during workouts or when it is especially hot out. If you are spending more time outdoors, you need to increase your water intake.
My travel mug goes with me everywhere and is almost always filled with ice water, even at night. When a hot flash wakes me up, I have found taking a few sips of water helps me to cool down faster, even if it is only a psychological effect.
Menopause Sleeping Tip: Just Breathe
Just take a deep breath and relax if a hot flash wakes you at night.  Okay, I laughed when I read that the first time. Sure let me break out my labor breathing again now that I am no longer going to be able to have children. Just take a deep breath and it will go away. What sort of new age mumbo jumbo is that?
No one in the history of calming down has ever calmed down because someone told them to calm down.
Deep breathing and meditation may not be your thing normally, but I promise you getting upset and frustrated in the middle of the night is definitely not going to help you get your rest.
Slow down, breathe through it, look at your peacefully sleeping bed mate under their thick pile of blankets and wish them bodily harm if that helps. Just try to focus your mind on relaxing and going with the flow. Fighting it won't help. Neither will getting mad at your spouse for having the gall to sleep, by the way.
Tips for better sleep during menopause.
Menopause Sleeping Tip: Wear Breathable Clothes
Many times you will barely notice the hot flashes during the day because you are busy and moving about. But once you are trying to sleep and that intense heat hits, you are miserable. And then the night sweats follow and your night clothes are drenched. One way to combat this is by wearing loose fitting breathable fabrics. Skip the tight, heavy layers and fabrics and look for 'cooling' clothing materials. My favorites are bamboo and cotton.
I was always a nightshirt kind of gal, but once the hot flashes started, I was miserable if my skin was touching my own skin. I got these pajamas a few years ago and it made a tremendous difference. They are lightweight, loose fitting and breathable. If I could wear them around all day I would.
Menopause Sleeping Tip: Change Your Sleeping Environment
Your bedroom itself can also be what is making the heat worse at night.
When I heard some millenials do not use a top sheet I had to laugh. That is all I use. Meanwhile, my poor husband is in sweats with two blankets and a thick comforter to keep his teeth from chattering. I was joking about the separate beds before, but there are some nights I did sleep downstairs just so he wouldn't be frozen.
Buy the best sheets you can afford, preferably cotton or bamboo. Why? Like with the pajamas, cotton and bamboo are breathable so the heat is not trapped against your skin. The reason to buy high quality is all of your tossing and turning trying to find a cool spot on the bed will wear down cheap sheets quickly. You will end up spending more in the long run. Most nights you won't want more than the sheet on top of you, but it helps to have a thin breathable blanket nearby in case you get chilled after a night sweat.
After you buy expensive sheets, you may want to invest in a cooling mattress pad and pillow. Yes, I am telling you to spend more money. Think of it this way, a $60 pillow that keeps your head cool and allows you to sleep well for 5 years is ... hold on a second... carry the one... then divide... $1 a month. It's worth it.
Ideally you want a nice cross draft blowing across you at night. If that isn't possible because of the weather or your room lay out, try to keep a fan blowing on you. There are a few potential problems with this, especially overhead fans: it can dry your sinuses, make your muscles ache in the morning and make your bed mate miserable. Consider a small fan like this, positioned so that it blows only on your body (not your head). It is quite refreshing when you are sweating.
Is it possible to get a good night sleep during pre-menopause?
Hopefully these simple strategies will help you get more sleep during menopause which will hopefully decrease the mood swings and irritability as well. Sweet dreams!