The Friday Frivolity hosts are continuing our baby theme for the month of January. We've had Geeky Pregnancy Announcements and What NOT to Say to a Pregnant Woman. This week we are talking about bad parenting gifts. I opted to go with these ridiculous baby products that might make good gag gifts, but I am worried for humanity if people really think these are life changers.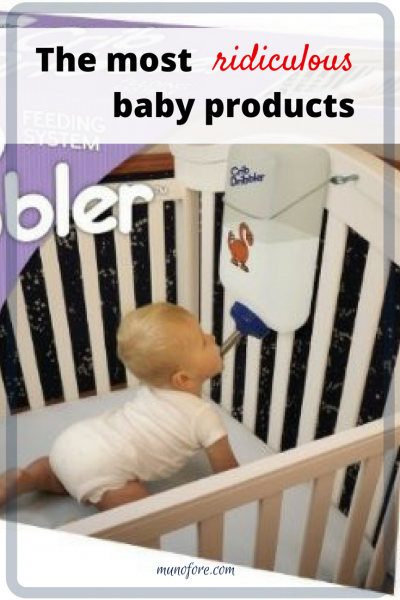 The links below are affiliate links, I may receive a commission for any purchases through these links at no additional cost to you. Feel free to check out the products, then pick something else, ha ha!!
My first thought when I saw this week's topic was this classic clip from Whose Line is It Anyway about gift ideas rejected by the Wise Men.
Chia Pet, tee hee, snort, giggle. Water skis... ha ha ha! Sorry, where was I?
I am the mom of a little boy. I can tell you first hand, these are a waste of time and money. A washcloth or cloth diaper will do the trick if you really want to avoid a shower. Sorry to burst your bubble new parents, but grosser things are going to happen than a little urine sprayed around.
Make the kid start earning his keep!
Sync with your phone to let you know when the baby needs to be changed. Includes an alert to let you know when baby is more than 15 m from your phone. Or you could do as parents have done for millennia and actually watch your kid and check her diapers occasionally.
Baby Lasso Diaper Changing Assistant
I am not sure this was actually a real product or just a prank. You put the baby's ankles in the straps and then loop it over your head to keep them from rolling while you change them. There are a few You Tube videos purporting to be actual users but the company's website no longer exists. I only added this old Amazon link if you want to read the hysterical review.
Apptivity Seat
Get their technology addiction started in infancy.
Fill it up and baby will feed himself leaving you time to yourself ...
NO NOT REALLY. This final one is actually a hysterical prank gift box complete with testimonials and faux coupons for "infant energy drink" on the back. You put a real gift inside and tape it up.
I only wish the others were pranks too.
[Tweet "Some of the most ridiculous baby products I have ever seen. #parenting #humor"]
Now on to the link-up! 😀



Featured Post from Last Week:
In a fun twist, since we now have four hosts and co-hosts we will also have four FEATURES.... but you will have to go check out the other four blogs to see if you were featured there! 😉
My pick this week is 10 Boredom Busters from WebMDiva
. I am still giggling about the Windex one. Just click over and check it out for yourself if you need some inspiration to bring a little harmless fun to your life (and pin it because April 1st is coming soon).
The Hosts:
Jessica is an amazingly funny and smart blogger from Wales who writes at Babi a Fi on a whole range of topics -- from entertaining vintage nostalgia, to technology tutorials, to book reviews, to raising her adorable munchkin, and so much more! Jessica shares 30 Days of Gotham Fandom Challenge in her latest post. 



Calling all bloggers looking for an upbeat and supportive group of pals to join in hosting the weekly #FridayFrivolity par-tay! We are hoping to add to our ranks of dedicated hosts and co-hosts, and would love for you to consider joining the fun! Co-Hosts are welcome on a temporary basis (usually a month), while Hosts make a more ongoing commitment. 🙂 Swing by here to express interest and ask any questions!
Now time for the new stuff!
This a link-up for all things funny, fun, encouraging, hopeful, and happy. That includes free printables, giveaways, and other fun stuff to make us SMILE and start the weekend off on the right foot. If you're here in search of fun and uplifting reading materials, skip the rules and just start clickin'! Bloggy buddies, thanks for coming to par-tay! You are welcome to link up to 3 posts, and old posts are always welcome! There are three rules only: