Just a quick post today to share with you my two favorite coffees and the March Photos for my Project 365: Coffee Photos.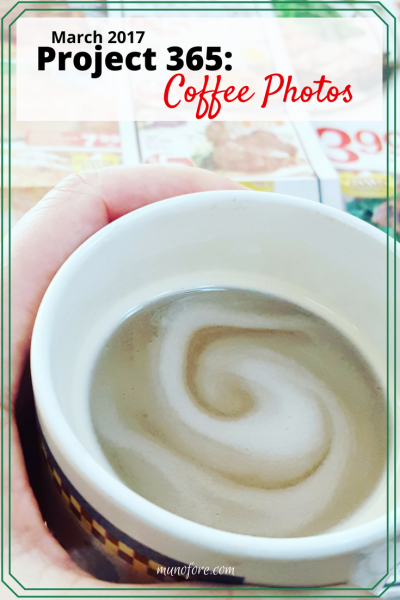 Since starting this journey of photographing my morning cup of coffee every day for the entire year, it is challenging me in different ways than I expected.
I figured I would have a hard time remembering the number of the day I was on, but my son is now helping me with that.
I also figured that I would run out of creative photo ideas. Looking back I see I have at least one photo of pancakes every month and quite a few green smoothies, including today's with just the ingredients.
One thing I was not expecting was to become a coffee snob. But I have. I made some flavored coffee from a well known chain and threw out the entire pot after a few sips. Now it could have just been that it was flavored, but it was so bitter after having a week of amazingly smooth coffee that I couldn't finish it.
Before I tell you my two current favorites I'd better disclose a few things to make the FTC happy. These are not affiliate links. I don't make a dime if you buy from these links. But I did a sponsored post for one last year, and I do work with a company that sells the other.
Both companies are small batch roasters and source their coffee beans from sustainable eco-friendly and Fair Trade sources, so not only does the coffee tastes great, I get to feel good about drinking it.
I got this as part of Choctoberfest and made some Mocha Cupcakes. The cupcakes were delicious and the coffee was even better. But at $22 a pop for 12 ounces it is a bit pricey. Still cheaper than going to a certain nameless coffee shop and having their brew, but...
I can get this in my weekly harvest along with my fresh locally grown organic produce from Harvest 2 U, the local CSA I am partnering with to create awesome nutrient dense recipes for their site. This is the coffee that ruined cheaper coffee for me. It is $14 for 12 ounces. A bit more expensive than my usual brand but worth it. Since most of you don't live in Harvest 2U's delivery area (yet 😉 ) you can buy directly from their site if you are so inclined.
March Coffee Photos and Slideshow