Phryne Fisher: glamorous, intelligent, witty, fashionable, sensuous and a little dangerous. Yup. I have found a new idol.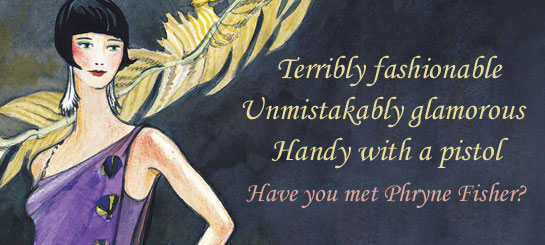 If you are Australian, you probably have heard of the Phryne Fisher Mystery books by Kerry Greenwood and the television show based on them.  Here in America we are just discovering the delicious Miss Fisher. Ovation just started airing Miss Fisher's Murder Mysteries on Saturday nights after another of my favorites, The Artful Detective. I was hooked on Miss Fisher after the first 5 minutes. You can also catch it on Netflix.
Set in Australia in the late 1920's, the stories detail the adventures of an intelligent and seductive female detective. Phryne, pronounced Fry-knee, was named after a Greek courtesan of the 4th century renown for her beauty and wit. Which is a very apt name for Miss Fisher.
Fair warning, this series definitely covers some "adult" topics. Beyond murder, of course. The first episode/book alone discusses cocaine, backroom abortions and "sapphism" (an old term for lesbianism). And Phryne seems to have a different lover in every episode. NO SPOILERS, please! I don't want to know if she does eventually try monogamy for awhile.
I think she has the joie de vive of Auntie Mame with the style and grace of Audrey Hepburn. And she lives in one of my favorite periods in history.
The Jazz Age has always been fascinating to me: the fashions, the music, art deco architecture, the expatriate writers (Fitzgerald, Hemingway, et. al.). And the series and books portray it beautifully from all of the glamour to the social undercurrent ignored by much of the elite classes in many countries.
In America we also associate the Roaring 20's with the Prohibition Era with their speak easies and gangsters. But that was not a factor in other countries. So, it makes for a bit of a different historical perspective.
Her home and wardrobe are nothing short of spectacular. I'd be thrilled to have just half of her hats. Stylish, graceful, tasteful... sigh.
I adore Phryne's attitude that there is nothing she can't do. She drives a car (rare for a woman in those days), flies a plane, wears pants occasionally (gasp!), speaks multiple languages and carries a gun. She doesn't need a man to rescue her, most of the time she is the one doing the rescuing and crime solving. She considers herself men's equal whether they want her to or not.
She seems to have no fears, at least that's what she shows to the outside world. Her impoverished early years and The Great War definitely impacted her sometimes in ways only the reader/viewer sees. Like when the young man at the dock dies in her arms and she flashes back to her days as an ambulance driver in the war. All she wants to do is take off her bloody blouse (which she amusingly does right on the dock while Constable Collins feebly holds up her fur coat to shield her from view.
Phryne claims to have no maternal instinct, but the cast of characters she picks up and takes under her wing, like Dot and Jane, belie that fact completely. She might be unconventional, but her caring nature is quite evident.
There isn't much else I can say without spoiling the fun. If you like intelligent and witty crime dramas I highly recommend you check out the books and the series.
[Tweet "The Miss Fisher Murder Mysteries is a delightful period drama with a strong female hero. #phrynefisher"]
Yes, in my next life I want to be Phryne Fisher. But, perhaps without the promiscuity and people dropping dead when I am around...