The transition from picture books to chapter books has been a little challenging for us. He likes his pictures and any book without them "has too many words". I know I am not the only parent (or grandparent or aunt/uncle) that wonders what would be an interesting grade level appropriate book for my kid to read. To help out, I went to the source to come up with a list of awesome books for Third Graders recommended by Third Graders.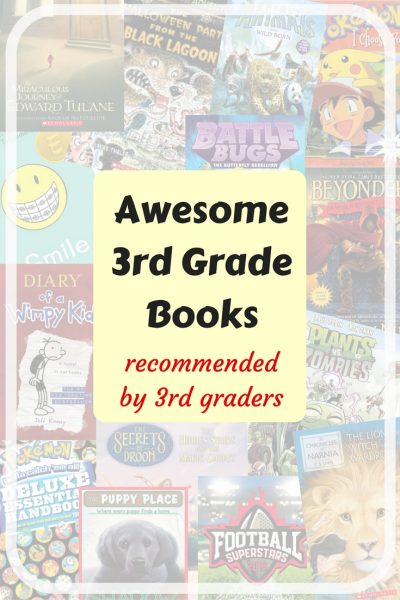 The list came about when I needed to create a class decorated pumpkin for a school function. The easiest way I could think of to have all 25 students participate was a pumpkin decoupaged with all of their favorite books.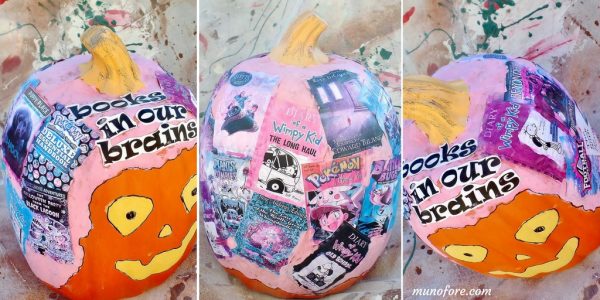 Well, I tried. Seriously, this project and the school carnival are the main reasons I did not want to be a room mom! UGH!
But, I digress! Let's talk third grade books. All of the links below are affiliate links on Amazon, I get a percentage of any purchase through the links (more info here). Most of them are also available through Scholastic Books. So if your school orders from there,  you might be able to get them cheaper and the class will earn free books. Or print this list and take it with you the next time you go to the library.
Books:
Book with No Pictures by B. J. Novak was mentioned by two of the students. My son was horrified when he saw my list, "A book with no pictures? How awful! Books have to have pictures." But the book is so silly and fun I know he'd love it.
The Last of the Really Great Whangdoodles by Julie Andrews Edwards (yes, that Julie Andrews)
The Miraculous Journey of Edward Tulane by Katie DiCamillo
Football Superstars 2016 by K.C. Kelley
Smile by Raina Telgemeier
Book Series:
Diary of a Wimpy Kid by Jeff Kinney was the hands down favorite of this class - mentioned by eight of the students.
Battle Bugs by Jack Patton
Plants vs Zombies: Timepocalypse by Paul Tobin
Spirit Animals by Brandon Mull
The Puppy Place by Ellen Miles
Black Lagoon Adventures by Mike Thalon
Beyonders A World without Heroes by Brandon Mull
Chronicles of Narnia by C. S. Lewis
Three more not mentioned by this class, but favorites of ours and other third graders we know:
The Chicken Squad by Doreen Cronin
Diary of a Minecraft Zombie by Zack Zombie
The Magic Tree House by Mary Pope Osborne
[Tweet "Recommended Books for 3rd graders by 3rd graders. #chapterbooks #reading #goodreads"]
I'd love to add more to the list. What early chapter books did you or your kids like?